Part 1 My journey on how I overcame my biggest challenge.
17 May 2013
Working for a visa company on a motorcycle each day travelling through the traffic was hair razing, between the cars from 6am to sometimes after 7pm.  Travelling from Stellenbosch each day despite the weather, sun, wind, rain… I loved my job, always trying to make others smile.  Yes it was stressful but I made the most of it at all times even when I had to do the whole of the Western Cape for a whole month on my own.  Oh yes I had travelled from Cape Town to Simons town, Strand area, Franschoek, Atlantis & Malmesbury all in one day, getting wet when it rained, it was awesome.
We had confirm every client we had delivered to or collected from each time, going to the consulates' to produce documents' for clients, it was a passion dealing with people each day.
Sometimes we had taken our motorbikes to the bike shop for a service or swop for a rented bike which were not always in the best condition.  One time the brakes locked up on me time and time again, I was not held back that day going over de Waal drive around the corner the bike just would not go, the wind was blowing so hard it felt like God was slowing me down for a reason, yip there it happened on the corner the brakes locked up and thank you Lord I was at about 20 km per hour, when the bike flipped me, it could be a serious incident.  I had to take the bike all the way back to Brackenfell where work shop is, man was that ever so stressful.  They then gave me a rental bike again while my bike was been serviced and it was this motorcycle, a Suzuki 400 Slingshot which I was using at the time, that I had my accident with.  It happened on Ou Kaapse weg, at 16:45 on 17 May 2013.  You never think it would happen to you and there is no feeling when the accident happens, I saw the car about to hit me as I used fowl language, I awoke to see the legs of people all round me I had removed my helmet whilst on the ground, looking through my left eye saw my left leg the foot was hanging in the air.  I then heard a voice saying I am sorry, I know it was the person that hit me coming out of the stop street on my left.  The people were very helpful and I was told that with the impact of my fall I folded the radiator of the still standing car in half.  The bike was also in half.  They were trying to keep me calm, all I wanted them to do was to call Kathy and my girls to let them know what had happened, shouting out their phone numbers. All those men and woman were amazing, must have been Fish Hoek residence.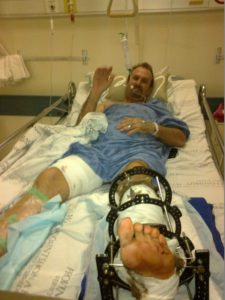 I believe I was rushed to Victory hospital and the same night transferred to Groote Schuur hospital, where my operations began seven of them all in total, the doctors were brilliant but the interns, I wanted to punch them as they stuck me full of holes, at one time I think I had nine drips stuck in my arms.  That was when I came out of the sixteen hour operation as I had the A frame on my leg to save my foot, they had to clean my leg each time they operated on me, that's where all the operations occurred.  Oh yes the main surgeon told me to stop smoking because the older you get its harder for the bones to grow back together, so immediately I gave my lighter and cigarettes to my wife and said throw them away and have not looked back.  God has kept my eye sight, hands and my life, still been able to do things with my hands, love making things, like my leather work which have been doing for the past 35 years and loving it.  I had five metal rings on my left leg to keep everything in place, 18 pins in my leg to keep it in place, with the flap, skin used from my right leg and bone to fill in the gap in foot where bone is missing after the accident, remember my wife was there every night and weekend at my side through this whole transitions and I had to lay there for 43 days on my back, wow this was a big step for me. The work had to do all the paper work as this was a work accident, it was then each time coming to the hospital seen different doctors every time and having to get your file and you plus 199 other persons trying their best to be first in line.  Oh and don't forget you also had sit in this place with lots and lots of persons waiting to be help.  I dreaded each time going to the nurse's station, trying to put on brave face, but then you look around and Days where you have staples pulled out of your leg and was it painful, I cried like a baby it was so sore, others were in worse situation than me.  There was a young lady with staples under her breast ouch, I heard her cry now this is where all the troubles start people and where your Faith comes into play, Do You Believe God is going to help you or not, well I was put on crutches when leaving the hospital.  This was a big adjustment, as we stay on the top floor at the flats we stay at, no lift, so I had to either crawl or on the bum up and down the stairs.  Oh yes they had eventually after I had spoken to them to transfer me to Therapy in Action, as I had seen them across the road from where I stay and it was a blessing to my wife and I that we did not have to drive through to Groote Schuur each time, so it happened I went over then Jane and Marissa were assigned to me and wow, that's when the work began on me, they involved themselves 110% in my situation, hands leg balance and the whole time focusing on me. Jane also focused on y paper work, trying to help the transition to run smoothly.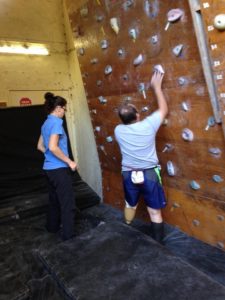 There were actually a couple of ladies from Therapy in action, Mariet, Susan, Erika, Jane and Marissa, involved with the whole fitness side and physiotherapy keeping sound minded throughout.
My rings came off during April 2014 and then I received my plastic boot and could actually drive a manual car right away, just had to do it, these ladies arranged for me to receive my prosthetic leg fitting at Dr Brand in Goodwood and this man was amazing.
By George Adams